Fall Hiking Season Is Just Around the Bend
---
We may earn money or products from the companies mentioned in this post.
Well, here we are, folks. The stifling summer season is winding down and autumn is right around the corner. With less than a week to go for the first official day of fall, I can already feel the changes this season brings begin to take place. The kids are back in school. Temperatures begin to drop. The leaves begin to change color. You can smell the crispness of fall in the morning air. This is the time of year that is most stunning and beautiful to those of us that appreciate the outdoors.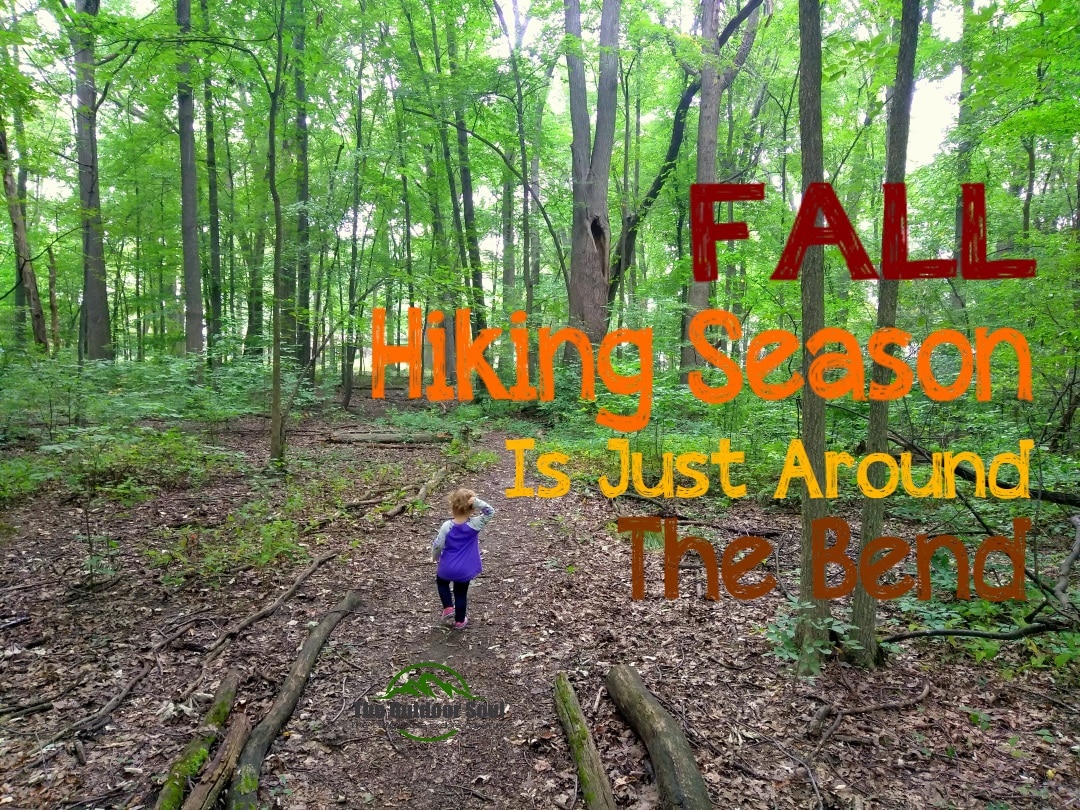 I took some time today to spend with my daughter, Allie. She is about to turn two years old in just over a month. I am so amazed at how fast time flies by. I wanted to take her out for a short hike to get outside to enjoy the day and take in all that nature has to offer. It was just over seventy degrees outside, a little muggy, but some cool breezes and a very misty, light rain kept us decently cool. The sky was filled with light grey clouds and a light fog was looming in areas where the trees were dense. As we stepped out of the house, you could smell the mustiness of the coming season change.
Since we didn't have a whole lot of time before my other daughter would be out of school and dropped off by the bus, I logged into my trusty Alltrails app and searched for a close-by, short-distance hike, and decided on the Troy Community Center Trail, located north of Big Beaver Road and West of Livernois Road in Troy, Michigan. After getting in the car, and driving there, we noticed that the roads on either side of the community center that led to the parking lots were closed off due to the setup of an upcoming festival. They had guard shacks at the newly structured temporary gates, and inside, you could see food stands and tents, carnival rides and games, stages, and more. I guess we will have to put this specific hiking location off until a later date.
Instead of just calling off the hike completely, after reviewing Alltrails again, I decided to take Allie to the trails of Tenhave Woods in Royal Oak, Michigan. I have experienced this hike before, but the last time I did, I took my other daughter, Abby with me. So, Allie has not had the opportunity to experience this one yet. Perfect. We arrived in a jiffy, and parked on Normandy Road, about a half of a mile east of Crooks Road. As I parked the car and looked to the back seat, I noticed Allie looking out the window at the fence of the park with the tall, towering trees reaching much higher above the top of the six-foot fence. Her eyes were big and gleaming. As I stepped out of the car, walked around and opened the rear passenger door where she was strapped into her car seat, I could see her begin kicking her feet, waving her arms, and almost scream in excitement. She knew what we were about to encounter, and she absolutely loves hiking.
I unbuckled her, and she immediately leaped up into my arms. I began to walk toward the fence and the turnstile entrance to the trails with her in my arms when she noticed the tube sticking out of my daypack from the hydration bladder. She grabbed the end of the tube and lightly bit down on the mouthpiece to get a drink of water. I find it kind of funny that my not-even-two-year-old knows how to properly drink from a hydration bladder. I am also very impressed with how well she knows to stay on trail whenever we hike and turns to look at me for approval, it seems, whenever she is unsure of which path to take at a fork in the trail or when the trail direction becomes unclear.
She took to the trails like she had been doing this for years. Every now and then, she would stop, dead in her tracks, and look up at the giants lurking above her and point in amazement, or stoop down and pick up a stick or a rock. She notices squirrels and chipmunks as they cross her path. Her eyes and ears would veer toward the sounds of birds in the canopy. She would stoop low to touch and feel the softness of the moss growing on downed trees. She wondered in awe at different types of mushrooms growing in different locations. I can tell that she has an affinity for the natural world all around her. She is truly a child of The Outdoor Soul, and it makes me so proud.
Autumn is my favorite time of year as the temperatures drop and the leaves bring forth their vibrant colors before falling from their limbs. Air temperatures drop to a more comfortable point. It's that time of year when I look forward to a nice warm mug of hot cider after a refreshing hike in the woods. While most people may consider summer to be the best hiking season, I beg to differ for multiple different reasons.
Comfy Temperatures
You got that right. When the temperatures drop outside, you sweat less. The heat and humidity can really take a toll on your body, requiring you to drink more water to stay hydrated. I mean, who really enjoys wearing moist, sticky clothing? It is much cooler and drier in the fall. The brisk winds keep the air circulating, keeping you cooler as your body temperature naturally rises while hiking.
Cooler nights are also brought forth due to the shortened days of autumn. These cooler nights make it more comfortable to sleep. Haven't you realized that you seem to toss and turn more often when it's too hot at night? Cooler temperatures at night allow your body to stay cool, and able to stay rested longer.
The cooler air also helps to keep your water stay colder longer. Who likes drinking warm water from their hydration pack? I don't really see anyone jumping up and down, hands waving in the air, screaming "me, me, me, I do, I do, I do!"
Look At All the Pretty Colors!
Autumn is the time of year that the leaves of deciduous hardwoods change color before drying up and falling to the ground. This is the perfect time to bring out your best camera and hit the trails. Bright, bold, dramatic bursts of gold, orange, red, purple, pink, magenta, black, and brown can really create some amazing photographic memories. These colors also seem to brighten up my mood and lift my spirits. Not to say that green doesn't, but experiencing a walk through the woods with an array of fall colors is absolutely breathtaking.
Peak color season doesn't last very long. Because of this, I like to keep an eye on a few websites that help me plan the best times to take a road trip with the family. Smokymountains.com has a great fall foliage map, and foliagenetwork.com has a bunch of different resources to plan out your trips.
Fewer Crowds = Greater Solitude
After Labor Day, the crowds on the trails seem to disappear. You don't have to worry as much about stepping on the heels of the hiker in front of you or have to speed up because of the hikers behind you. You have the opportunity to hike at your own pace.
Another plus is that you can actually take photos of your natural surroundings instead of the crowds of people filling up your photo. Don't get me wrong, as I do enjoy the company of others, but when I'm hiking, I would rather spend my time with my natural surroundings, listening contently to sounds of the wind in the trees and the birds and wildlife, rather than large groups of people conversing.
Where Have All the Bugs Gone?
During the colder months of fall, bugs prefer to head to warmer climates or find hiding spots to tuck away, so they stay away from you this time of year. You can most likely just leave your bug spray at home and just enjoy your hike in the woods without having to share it with these little buggers.
You may still have to deal with the bugs in some areas, but it is very minimal. If by chance, you are in northern Michigan or similar locations, you may want to read up on how to deal with them in my article, Pesky Pests of Northern Michigan.
The Wildlife Comes Alive
With fewer people on the trails and in the campgrounds, you have a much better opportunity of catching a glimpse of the wildlife. Especially during this time of year when there is less daylight, the animals have less time to prepare for the coming winter, and will most likely be out and about doing what they need to do, either gathering food, preparing their homes or mating.
This is the best time of year to share your adventures with the local fauna. There is no comparison to experiencing a deer walk up right beside you on a trail, or catching a glimpse at a full-sized moose, elk, or caribou. Bears are preparing to hibernate during this time. You may even see a beautiful fall fox or meercat playing in the fallen leaves, or a hedgehog looking to play. Owls are also out and about this time of year as well.
There are so many reasons to explain why fall is the best season for hiking, but I suggest that you just get out there and experience it for yourself. Just do it. Check out alltrails.com to find some exciting hiking trails in your neighborhood, or plan to take a little road trip through some state or national forest land to get to a more secluded hiking trail so you can take pleasure in the drive through the beautiful colors of the trees in the coming months.
Be sure to check the foliage map to find the best time to catch the fall colors in your local area. Peak colors come and go very quickly, so be ready for it. Take your soul outdoors. Trust me, it'll thank you.