Hidden Away Suburban Oasis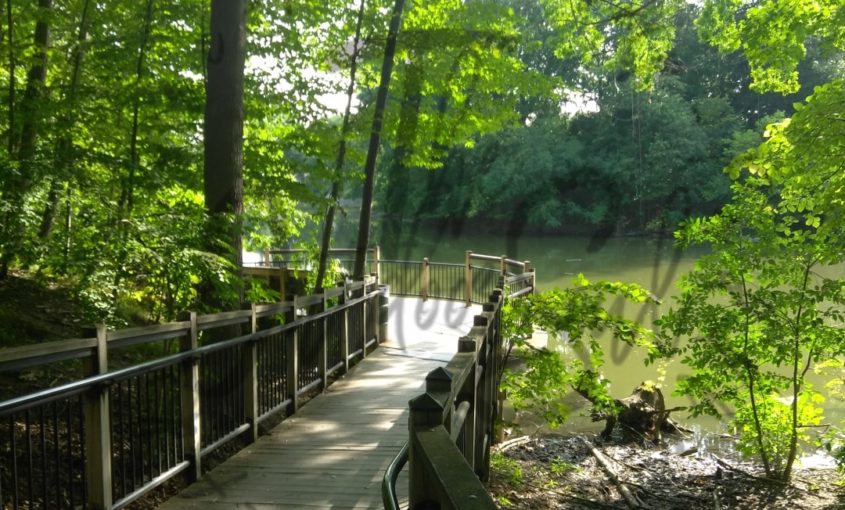 ---
We may earn money or products from the companies mentioned in this post.
My drive to work this morning was kind of boring.  I took the freeway, like I normally do when I work on Saturdays since there's a whole lot less traffic and it's usually smooth sailing.  I'm not sure what was going on in Royal Oak today, but there was a huge back-up of traffic both on and off the Woodward exit on both Eastbound and Westbound on I-696. Let alone, an accident right in the middle of it with ambulances, a fire truck, and a ton of police cars, with flares on the road.  It was a mess.
Anyways, I usually don't like driving on the freeways in Metro Detroit because there's no real scenery or greenery to look at.  No mountains or rivers or valleys.  Just big concrete walls.  Boring, boring, boring.  At least when I am at work, on the third floor of the building, when sitting down at my desk, the view out the window isn't too bad.  It's when you stand up that you begin to see the other buildings and traffic and strip malls and parking lots and I could go on and on.  Sometimes, I wish that I was living completely rural.
I knew that I didn't have much time after work to do much, as I was really looking forward to coming home to my amazing wife, 2 beautiful daughters, and my 7 year old beagle to just kick back and relax for my short weekend which is already booked with a family party on Sunday (my only full day off for the weekend).  At least the party is at the cottage on the lake.
Anyways, since there wasn't much time after work and I still wanted to get outside, I took a small detour on my way home to take a short hike through Carpenter Lake Nature Preserve, just on the eastern edge of Southfield, Michigan at 10 Mile Road and Inkster.  The Preserve is actually pretty nice, and I wouldn't have thought that such a place was available so deep in the Metropolitan area.  Here is the description captured from the Michigan.org website:
I really enjoyed my short little hike through just a small portion of the preserve, and I plan to return very soon when I have more time to check out the rest of it and actually slow down to enjoy my surroundings more.  The parts I did get to see were a nice little tease for me.  The gravel walking paths were nice and easy to follow and not get lost, which was nice, even though I do love just getting lost sometimes.  It did make it feel more like a park, though, instead of pure wilderness.  There were a lot of fallen and damaged trees, which are cool to look at, but being within the suburbia we call Metro Detroit, it makes me wonder if all the damaged trees were actually caused naturally.
There were spots within the preserve that were roped off for construction, as there were building steps and a large wooden deck close to the lake, but at least they kept part of it open and available as you can see in the photos.  It felt nice getting away from the normal hustle-bustle of my normal daily commute, and be able to breath in some nature after a long day's work in the city.  It was like a welcome to the weekend 20-minute party with me, myself, and I.
I didn't have time to stop and really enjoy it, but I definitely plan on coming back to really view the wildlife, maybe some fishing, hiking the entirety of the trails, and getting away without really getting away.  It's nice to know now that there are these little natural getaways within the city limits of Metropolitan Detroit, and I will definitely be on the lookout for more, as this really allows to get outside more often, without having to drive too far from home.
Enjoy the photos, and if you are in the area with some time on your hands, stop by this beautiful nature preserve.  Take lots of photos.  Take some breaths of fresh air.  Drop in a line at the lake and relax.  Celebrate the outdoors, and GYLBO.  That's right people, get your lazy butt outside.  Until next time, folks.