Gear Review – Swerve Backpack from High Sierra
---
We may earn money or products from the companies mentioned in this post.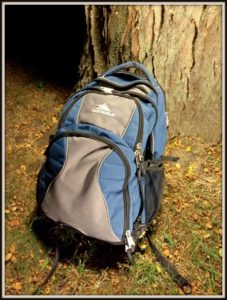 If you are anything at all like me, you may not always have the available time to regularly go out hiking overnight, for a weekend, or longer, though we may wish that we had the freedom to do so.  Most of us have responsibilities of a job, family, and a multitude of other things that seem to keep us from enjoying perpetual freedom to savor everything that Mother Nature has created for us.  Although, sometimes I wish I could.  For these reasons, I am grateful for a wonderful thing called the day hike.
There are countless parks, nature preserves, and trails everywhere that make this a possible activity for anyone.  You may not know that you most likely drive by many of these on a daily basis during your commutes to work, events, or even your weekly errand runs to the grocery store, gym, or family outings.  I have been writing about my experiences finding local trails available to me, and finding these are as simple as a quick google search for trails.  There are other options out there as well that provide more options for filtering and finding the right trail for your interests, whether it may include length of trails, difficulty, or specific things to see.  I recommend trying alltrails.com.  They have an app you can download for this, and if you want to get more map layers and be able to access those maps offline, you can upgrade to the Pro version of the app.  It's worth it.
The day hike is the perfect opportunity to get your fill of Vitamin N.  I have to say that there are some items that come in handy during these occasions.  A good pair of hiking shoes or boots, silk or wool socks (stay away from cotton), GPS, plenty of water, extra food, flashlight, camera, rain gear (just in case), lighter or matches, and a first aid kit.  However, the most important thing to think about is how you are going to carry all these items with you.
I want to take this time to discuss the importance of a good daypack or backpack.  There are many options out there, and you probably don't want to always carry a full sized hiking pack that towers over your head, especially when just heading out for a few hours or half a day.
In my experiences, I believe that I have found one of my favorite packs for these shorter adventures, which I have owned and consistently used for this and many other purposes over the past few years.  Let me introduce you to the Swerve Backpack by High Sierra.
High Sierra prides themselves in designing adventure lifestyle gear at affordable prices.  The gear that they specialize in are bags, packs, and luggage.  They were founded in 1978, so the fact that they have stuck around in the game for almost 40 years has to make some kind of statement about them.
Let's get down to brass tacks about the Swerve.  Here are the product details:
Body Dimensions:
Height: 19 inches
Width: 13 inches
Depth: 7.75 inches
Weight: 2.14 lbs.
The Swerve has the following features:
Multi-compartment design
600D Duralite features a special water resistant coating to help keep gear dry
Padded non-slip shoulder straps with cell phone pocket
Side mesh water bottle pockets
Padded computer sleeve, with back-access
Organizer compartment with multiple pockets and removable key fob
MP3 player pocket with headphone port
Easy-access hanging accessory pocket
Adjustable side compression straps
Multiple colors and designs available
Overall, I have to say that for the price, this pack has done me well and I have a feeling that it will continue to do so for years to come.  Not only have I used this bag for day hikes, but it is one of my go-to accessory bags for trips with the family to the park, family gatherings, vacations, and day trips with the kids.  It has been a loyal companion of mine for many a journey.
The multi-compartment design is great for me as I like to keep things organized and keep my journal writing utensils separate from my books, and my water bottles separate from my electronics and spare clothes (which I definitely hope to keep dry).  It makes complete sense to me.  I would have liked to have seen a little better quality and thickness of the small easy access hanging accessory pocket on the top, as well as the organizer pockets in the front compartment.  They are very thin, and could easily be ripped if not cautious.
The shoulder straps have a thick padding which makes it very comfortable to wear, especially when carrying a heavy load on my back.  Although, I don't really use the cell phone pocket on the strap for its intended use since I basically carry a mini-tablet in my pocket that does not fit in this small compartment.  However, this pint-sized pocket is perfect for quick access to a small bag of peanuts.
I do have to say that the computer sleeve inside is perfect if you don't have a giant screen, as my 15" laptop fits perfectly, but for anything larger, I recommend a different pack.  Even though it says the max size for the computer is 15.5", I have read a few bad reviews online about this aspect, especially one person stating that their 17" laptops ripped through the bag.  At least I understand why it ripped the bag, as the product website does not recommend trying to fit that large of a computer inside, but who am I to judge that person?
I have also read on many other reviews of this pack about the zippers, and I do have to agree that it does lack a bit in zipper design quality.  However, some of the issues I read about, stating how the zippers completely ripped and broke easily and quickly, I can't agree with.  I don't really treat this bag with such delicate care as a newborn baby, but one would really have to use the zippers forcefully and with complete reckless regard to break or rip them.  I personally do not treat my possessions in this manner, but yet again, who am I to judge the person who constantly uses brute force with their stuff?  I especially enjoy how the main zipper comes all the way down to the bottom on both sides, allowing it to open wide.  Although, the thin webbing fabric used to help support this wide opening easily gets caught in the zippers and can cause some headache.
The quality of the bag itself, including the materials and stitching of the exterior body are great for being an outdoor pack and ready for some decently rugged use.  The straps are thick, with a nice padding that assists in making the bag comfortable to wear.  The other part that I like is the padding that sits on your back when you wear it.  The back is built with a sort of stiffness to give support, but padded very nicely to make it a delight to carry.  Even when bouncing up and down a bit when jogging or riding my bike, both the support and comfort of wearing it is evident.
One thing missing from this pack, being meant for the outdoors, is a sternum strap.  This would definitely come in handy on a pack meant for these activities.
Overall, this pack has lived up to its purpose, and I have been more than happy with my purchase.  This pack has helped get me through many adventures and done a great job of doing what it was meant to do.  High Sierra has mentioned that they create gear for the adventurer, and with confidence I can say, as an adventurer, I support their efforts when it comes to the Swerve Backpack as adventure gear.  Nice job here, High Sierra.  Very nice job.
If you enjoyed my review of this backpack and you'd like to purchase one for yourself, please consider purchasing from my Affiliate link. Your support will help to fund future trips to test gear and make all of these articles happen!
Purchase Your High Sierra Swerve Backpack Here