Guest Post: Kayaking In New Zealand
---
We may earn money or products from the companies mentioned in this post.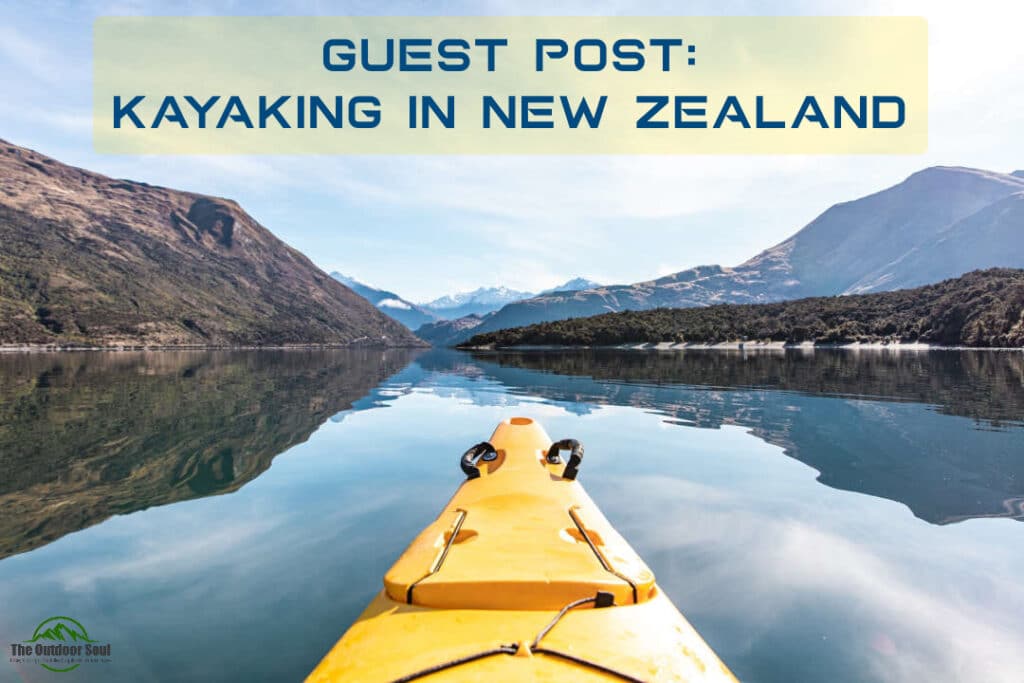 Close your eyes and picture everything you enjoy and love about being out in nature. Now imagine a coastline that hosts thousands of kilometers of rivers, lakes, and the Pacific Ocean. Imagine a place where you are spoilt for choice with adventure lurking almost everywhere you go. Picture yourself and your trusty kayak companion, venturing out onto pristine shorelines or into serene bodies of water which glisten with every kayakers' hope for excitement, adventure, and fun. Right about now, lyrics to a popular song from The Beatles comes to mind: "

Picture yourself on a boat on a river, with tangerine trees and marmalade skies …"

But before you start wondering, this article is not about The Beatles but rather about the beauty that encompasses the amazing country of New Zealand; and for any kayaking enthusiast, you sure are in for quite a paddle-out experience venturing out to the shores of New Zealand.
Now if you are planning and looking into a kayaking experience in New Zealand, you definitely would not need to search for long as the magnificent scenery and coastlines found all over this beautiful landscape spoilt country offers an incredible selection of destinations, lakes, and waterways for you to explore New Zealand in all its glory. From the largest fresh waters of Lake Taupo to the exquisite Abel Tasman National Park, adventuring through New Zealand is a lifetime worth of visual happiness and memories waiting to be experienced.
There is one particular favorite location of mine which I would, without a doubt, recommend to any kayaking enthusiast. But before I get into that, let me ask you one thing: "Do the words

The Hobbit

bring joy to your life?" In the south of

New Zealand

there is a mystical and crystal clear Pelorus River waiting to bring you unbelievably panoramic views as you float past magical native forests that host incredible elements appreciated by the Maori natives. The great thing about the Pelorus River kayaking adventures is that it not only caters to the outdoorsy and experienced but to those at beginner levels who simply cannot pass up on an unforgettable experience. Not to mention, if you are a loyal fan of The Hobbit

, then you simply cannot deny yourself a truth and beauty that lies within this river, Bilbo couldn't, so why should you?
With so much to explore throughout the coastlines and bodies of water that New Zealand has to offer, on a silver platter no doubt; I would definitely recommend spending time in planning out your trip. You wouldn't want to miss out on the royalty of nature and adventure which has made New Zealand one of the most popular destinations for outdoor family tours, kayaking guided experiences, shores which stretch out to infinity and so much more. From rock carvings to floating under blissful waterfalls or perhaps paddling out into the open waters of the Pacific Ocean, which often presents its visitors with new friends to be made, as you may witness the dolphins and seals that claim the waters in Kaikoura.
Whether you enjoy the convenience of

inflatable kayaks

or perhaps your years out on the water have given you the preference with hard kayaks; there is such a vast selection and choice of locations all throughout New Zealand that cater to the experience you seek and the adventure you need. Get the whole family involved because there is not a single person on this earth who would not be able to engage, experience, and enjoy the adventure that awaits out on the New Zealand waters.
I have always found that my love for kayaking was encompassed by a combination of thrill-seeking elements as well as much-needed breakaways from the hustle and bustle of life. And when New Zealand came up on my radar, I instantly gravitated towards the experience because I knew I was in for a ride. So if you are even just considering kayaking through New Zealand, ask yourself this: "What are you really waiting for?"
An avid writer, traveler, surfer (and many other outdoor pursuits). I have visited over 30 countries in the last 15 years, love to get off the beaten track and explore new destinations. You are equally likely to find me with my laptop on the top of a mountain or a hidden beach. My writing can be found across various publications online and I am always happy to write for anyone, just drop me a line: michelle@webmailant.com