Guest Post: Mountain Careers Is Changing The Job Market In Mountain Towns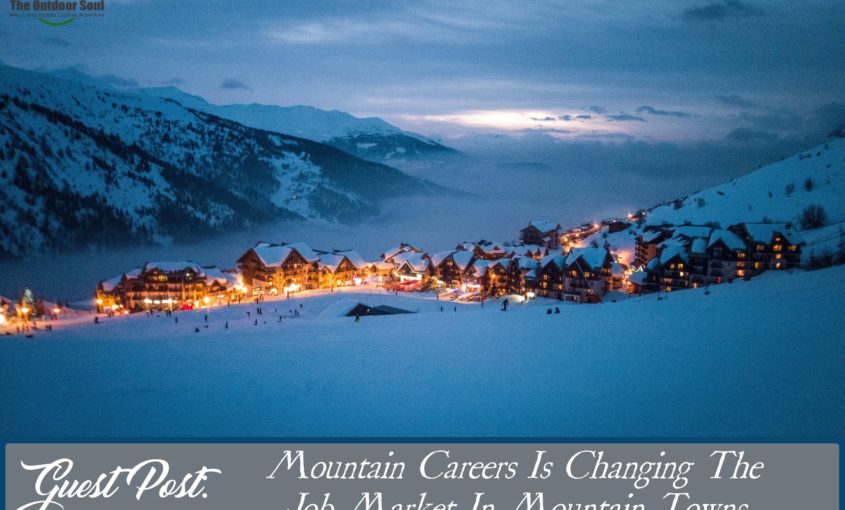 ---
We may earn money or products from the companies mentioned in this post.
MOUNTAIN CAREERS IS CHANGING THE JOB MARKET IN MOUNTAIN TOWNS
How a job board is giving ski bums the opportunity to make six-figure salaries
I was recently contacted by Aryn Schlichting, Founder and CEO of Mountain Careers. I had originally stumbled upon the website,
https://mountaincareers.com
, some few months ago and was excited when she reached out to me, wanting to write an article for The Outdoor Soul. If you've read my article, I Want To Live In The Mountains, you'd understand that as soon as I can talk my wife into moving to the mountains, I will be using Mountain Careers for my job search. Aryn, tell us more:
Mountain Careers is making it possible for mountain town locals to have high-paying jobs without moving to a metropolitan city. While mountain town locals may have the reputation for living the  "ski bum" lifestyle, full-time job opportunities are growing rapidly in these areas. "The truth is people are moving to mountain towns for real careers and the lifestyle it offers — not just to ski. The next time you are on a chair lift you may meet a local Computer Engineering, Director of Marketing, or another talented professional. Ski bums aren't bums anymore and Mountain Careers is helping to change that," said Aryn
Schlichting, Mountain Careers Founder and CEO.
Current mountain town economies are attracting talented professionals to stay and grow in their professions in these small communities.
Take for example Bluetent, a digital agency for travel, tourism, and beyond. Located downstream of Aspen, Colorado, they have been featured as one of  Outside Magazine's 2018 Best Places to Work in a town of less than 7,000 people in population. "Bluetent is committed to attracting and retaining talented professionals who are interested in working and living in the Roaring Fork Valley. "Mountain Careers helps us find the like-minded work hard/play hard individuals as we grow our team," stated Amber Trzcinski, HR Manager at Bluetent. Mountain Careers has also picked up listings in Health Care, Education, Human Resources, Local Government, Outdoor Industry and more– just to name a few.
What's next for Mountain Careers?
Since its inception, Mountain Careers has spread out of Vail with current postings from Steamboat Springs and Aspen, Colorado to Bozeman and Big Sky, Montana as well as Mammoth Lakes, California. "We found that by connecting mountain towns we are able to offer professionals more opportunities and show them career progression as well. We have tapped into a niche that has not existed before so we quickly became the 'go-to resource' for professionals seeking the outdoor lifestyle," said Schlichting. This summer you can expect to see Mountain Careers events pop up in the Tahoe/Truckee region as well as see Mountain Careers presence and more outdoor industry type events.
So, if you find yourself yearning for that real mountain-town, hit the slopes after work kind of lifestyle and just need to find that right position that'll get you there, check out Mountain Careers to land that dream job.
Aryn Schlichting is a Chicago native and following graduation from University of Colorado Boulder,  she found herself teaching ski school to young kids and eventually looking for a career that would allow her to stay in the mountains.  Schlingting found her passion in sharing her love for 'mountain life' by being a recruiter for large organizations and helping others make the move to the mountains. In 2015 she had that 'AH HA Moment' and realized that there was not one central place for people looking for professional jobs in the mountains to find work — so she started Mountain Careers.
Mountain Careers is the official mountain town network with a reputation for being a well-established professional resource for companies and job seekers alike.  Sign-up for their weekly newsletter at www.mountaincareers.com.