How to Plan and Organize Your Fall Color Tour
---
We may earn money or products from the companies mentioned in this post.
After reading about my past Fall Color Tour, you may be yearning to organize and plan your own tour. This is an annual family trip that I look forward to, and is always full of adventure and picturesque moments I want to keep. My kids are always asking me where we are headed for our next tour, and enjoy brainstorming ideas on where we should go.
Although the trips are amazing, there is quite a bit of planning and organizing that goes into this. I recommend spending a good amount of time in the planning stage, at least a month in advance, to make sure it turns out epic for everyone involved.
Let's get started…
Brainstorming ideas on where you would like to visit should be done throughout the year, months in advance. I usually keep a separate folder with our ideas on places to visit and things to see on upcoming fall color tours. Since time is usually limited for the actual tour, taking into account proximity between stops can be a big factor in finalizing plans for the full tour. Brainstorming lots of different ideas and places will allow you to pick and choose multiple options that are all within the time frame you have set.
I recommend utilizing Google Search or your preferred search engine to find other recommended fall color tour routes in the region you are looking to visit. For example, type in the following into your Google Search bar: "Fall Color Tour Northeast Michigan". This search allowed me to find the Tunnel of Trees, Leelanau State Park, and also the Tahquamenon Falls Train & Riverboat Tour in Newberry which we have now added to our itinerary this year.
Researching each idea, as well, can help you to determine the lengths of stays at each stop, time to travel from one stop to the next, and help you decide on other factors that will be needed to figure in such as hotel stays, restaurants, etc. A quick Google search is helpful in your research as well as the use of a map site (i.e. Google Maps, Mapquest, or Waze).
I prefer using Google Maps to plan my route, but using Google Maps on a PC is much more valuable than on a mobile device as there are many other features included on the PC version that are not available on the mobile app. The most prominent feature of the PC version is the ability to further customize your actual route instead of just taking Google's suggested routes based on least amount of time driving. This is crucial in planning out your route on a Fall Color Tour, as the freeways are not always the most beautiful, and can make it very tough to stop along the route for photos.
   Here's an example: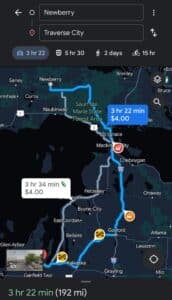 On the left is a screenshot of the Google Maps mobile app where it chooses the best route to take based on least amount of travel time. However, I want to take the more picturesque route along M-22 through Tunnel of Trees. The PC site for Google Maps, as pictured on the right, allows you to grab specific points on the route and drag it to change the route to your liking.
Google Maps also makes it simple to add additional stops within your route as well. This is done by clicking the "Add destination" button, then reorganizing the order of the stops. You will most likely need to move your route again if they are not directly on your planned route, but this is easily accomplished on the Google Maps PC site by dragging the small white dots on the route to your desired route.
The best part about this is when you are finished creating your route with any destinations along the way, is that you can click the link for "Send directions to your phone" that allows you to send your exact route as a Google Maps App link to your phone that you may use for driving, or you can email the link for that exact route to your own email to be able to access it any time.
Timing is everything, as you want to make sure that you plan enough time throughout your tour to do everything you have planned, and also have time to make stops to truly enjoy the experience and take photos (if you're anything like me). Even though Google Maps tells you it will take 4 hours to travel, I usually bump this time up by 1.5 times, to 6 hours. This leaves you buffers for unplanned detours or stops along the way.
You will also want to make sure and account for time taken at each destination. For example, if you planned on stopping in Charlevoix, Michigan to enjoy the Fisherman's Island Hiking Trail, a 1.2 mile hike, you will need to account for the 30 minutes or so it takes to hike the trail. I also include additional time buffers on the hikes as well, so I would add 45 minutes for the time it takes to hike this trail. Taking into account time of day you will arrive and depart from here as well.
Now, how I came about the length of time it takes to hike the trail was easily figured out using my favorite Hiking Trail app, Alltrails. This app is absolutely amazing, and I definitely recommend purchasing the Plus version, which provides downloadable maps for offline use and a bunch of other cool features. Also, 1% of your purchase goes to nonprofit organizations focusing on protecting the wild places we cherish and creating positive change for a healthier planet.
Make sure you also give yourself enough time to enjoy a full meal and not just grab and go, unless you planned to do that. You will also want to give yourself plenty of time to check into your hotel, brothel, or campsite, and have time to unpack, unwind, and enjoy your evenings before visiting dreamland. The same goes for giving extra time to wake up and pack up before you hit the road again.
There are many other tools out there that you can use to plan and keep your trip organized. Utilize the tools as they can help make all of our lives easier. Check out my choice of planning tools below:
Travel Planner – My Choice: Wanderlog
I have just begun using the Wanderlog app to assist in planning and keeping my itinerary organized. This app is great in offering suggestions of places to visit that are close to your route. It allows you to also set a budget for your trip, as it can take links to your hotel reservation site and automatically include the address and cost into the app. You can also add flight, rental car, bus, or train reservations to sync with Wanderlog. You can then share your Wanderlog itinerary either with a web link or via email.
Trail Map App – My Choice: Alltrails
As mentioned before, I absolutely can't get enough of using the Alltrails app to find hiking trails. If you are a biker, you can also use the app to find street biking or mountain biking trails as well. In addition, you can also use it to find scenic driving routes, cross country skiing trails, paddling routes, and even fishing or camping locations. I use this app religiously whenever I am looking for a local hike or planning a trip to find hikes on the way or at my destination. You can easily filter your search criteria in so many different ways such as hiking length, distance away, difficulty, activity type, elevation gain, dog friendly, included attractions, and so many others. You can see ratings of each trail via user data and choose what suits your needs for each adventure you are planning. I can't say enough about how well-designed this app is.
Guide Books and Road Atlases – My Choice: Lonely Planet, Rand McNally
Guide books or Travel Guides for your destinations can come in very handy in the brainstorming and research phase. Although more seasoned Guide Book readers may stick to the basics such as Fodor's or Frommer's, I have recently begun enjoying using Lonely Planet for my online Guide Books. It feels more current or up-to-date and less antiquated than the well-known, been-around-the-block Guide Book companies.
However, as far as Road Atlases go, the tried, trusted, and true still stands at the top today. You can't go wrong with Rand McNally to make sure you never get lost.
Music App – My Choice: Spotify
Don't forget the music. At least for me, music is essential for any road trip. I have been using Spotify for quite awhile now. Up until recently, I have been mostly enjoying my experience with the free version of Spotify. Although the ads can be somewhat annoying, it has allowed me to experience new songs and artists that I have not heard before, using the radio suggestions they provide. Now that I have upgraded to Premium, I no longer have the ads, can truly customize my playlists, and pick any song I want to listen to without any hesitation. I create playlists for each of my planned trips as well, making for interesting conversations with my wife and kids as we constantly get to explore new music. Definitely, do not leave home without a music plan.
Checklist App - My Choice: PackTeo
This is where a lot of people may choose to just throw some stuff together in a duffle bag 10 minutes before you run out the door, but I would strongly suggest planning this out a bit further in advance. I know it may be against your better judgment, but have a checklist planned out. There are many ways to put together a checklist, instead of just thinking it all out yourself. There's an app for that!
The PackTeo app is easy to use and allows you to create different checklists for each trip you have planned. You can enter your departure and return dates and it has templates for different types of trips as well as a catalog of items you can look through to add to each list.
Don't forget anything.
You are going to want to make sure you have a well-prepped chariot to take you on this adventure. Make sure you are up-to-date with your regular maintenance of your vehicle BEFORE you hit the road. Oil changed, fluids topped off, tires filled, car washed, windows cleaned and preferably Rain-X'ed, vacuumed, packed, and organized. It would be a shame if you were left stranded in the middle of god knows where, or having to take unplanned time to have to shop for something you forgot.
Stay Flexible With Your Itinerary
You are going to have things come up along your trip. Your wife may have to stop at a bathroom every 20 minutes, the kids may ask to stop for ice cream, you may see a beef jerky store you didn't know was along your route. Keep a calm head, and don't worry if you don't get to the End of the Road hiking trail at 2:37pm sharp. Staying flexible with your itinerary will make sure your trip is a success for all involved.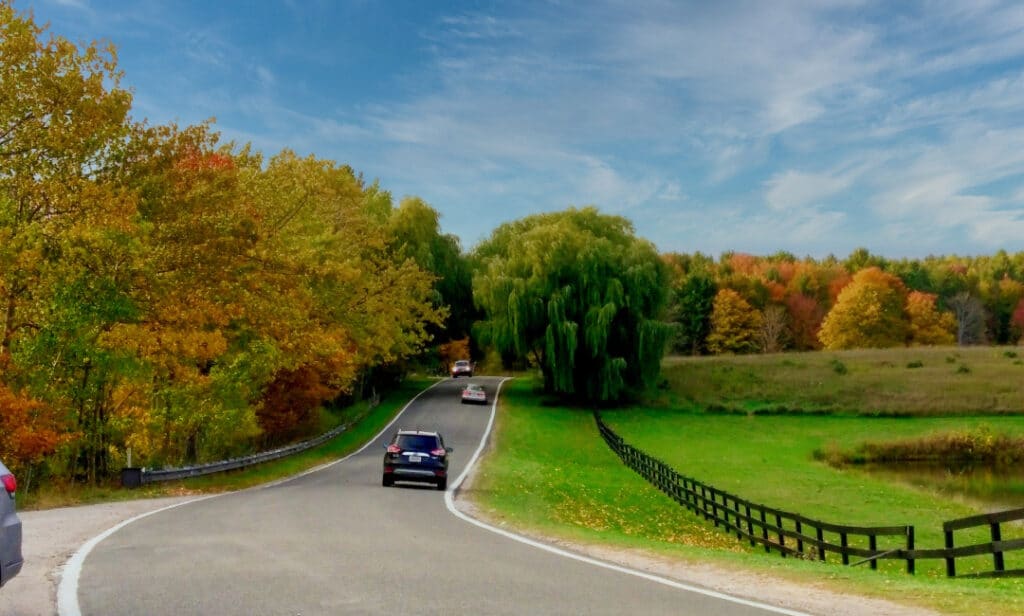 Planning and organizing your Fall Color Tour can seem daunting, but having a plan in place will allow you to enjoy yourselves so much more. As long as you have a plan, but allowing buffers to be able to step away from your itinerary and enjoy your trip, you can make sure that no major road-bumps can put a kabash on your entire adventure. Visit someplace new and check out the show of all of the beautiful colors mother nature puts on for us during this once-a-year spectacular.
I want to hear about your Fall Color Tour in the comment section below. What kind of adventure did you have and where did you go? Tell me about all the fun you had.
Take your soul outdoors. It'll thank you.