Best and Worst Hiking Trail Finder Apps Reviewed
---
We may earn money or products from the companies mentioned in this post.
There has been a lot of craziness in our house lately with renovations, hosting a large family party for my daughter's first birthday party, getting all of the Halloween decorations together, and of course the usual craziness that goes on in our family. I just have to close my eyes keep telling myself "Remember, as far as anyone knows, we are are nice, normal family". Now, I have some time to start thinking about where to go next. My six year old has been asking me where and when we are going on our next adventure. This got me thinking about how to find our next trail. This is my search for the best and worst of hiking trail finder apps and my reviews of them.
It would be stupendous if I lived in an area where I could just take a step out my back door and just go wilderness exploring. In a wide open valley, on the edge of the mountains, with a river running through it, and a lake just a stone's throw away, with a waterfall or two, and a small canyon, with undiscovered caves. Yeah, that's it. However, I live in a suburban metro area, with not much nature around, so this makes it tough for me to find great trails at a moment's notice. I need to plan it out in advance, and do some research to find my next adventure, away from the city. It's not very easy, but I am sure that many of you have the same obstacles to overcome.
This got me thinking about checking out multiple different websites and apps for trail finding, and providing my two cents on them. Now, please keep in mind that I am not an iPerson. I don't have, and never will own an iPhone, so the apps that I discuss will only be those compatible for Android. My apologies to those of you iPhone users. No offense, and none taken.
Please keep in mind that these are my opinions of the apps. Let's get started.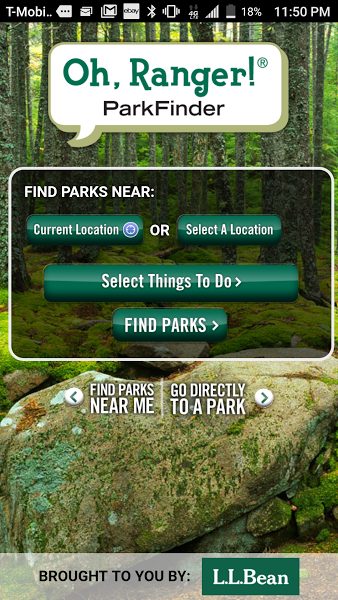 I really enjoyed the look and usability of this app, but it is only specific to finding parks, and not necessarily hiking trails. There is an option to find parks that include hiking trails, but that's about it. There is no option to get access to trail maps with the app. There is an opportunity to view park maps, and just get basic information about the park itself, as well as find other options the parks provide such as fishing, horseback riding, picnicking, camping, climbing, caving, golfing, etc. but the information provided is pretty basic. It's a good place to go for a start, but you will need to go elsewhere to find more detailed information like trail maps, trail difficulty levels, or things to see and do. Only a short description of the park and its offerings are provided, with no options to read others reviews. This app is free.
My overall hiker rating for this app: 3/10
This app has everything I am looking for. It is extremely easy on the eyes and very easy to use. The search option lets you choose an area and it provides so many options in the area for hikes, with difficulty levels, a wide range of filter options, ratings based on feedback, photos and reviews provided by users, a personal history of trails and stats that you have completed. It offers an option to create your own personal profile and add favorites. Full trail maps are provided, and other peoples' recordings of their hikes are offered. There is even an option to filter for dog-friendly or kid-friendly trails, which is great for my family. The app is free to use, but also offers an annual subscription at $29.99 that includes exclusive access to real-time map overlays with air quality, fire history, and satellite weather updates. It allows you to create custom maps, download and print maps on demand, get additional map layers like Topo or Open Street Maps, and the ability to access maps from your phone, even when offline. This app has it all, and I have yet to find a negative aspect. This one is definitely a must see app.
My overall hiker rating for this app: 10/10
I have used a similar version of this app for tracking my own bike rides. The app is great for tracking your own hikes. I like how it alerts you as to how far you have hiked, including your time and pace. However, it purely relies on others' recorded routes, so you never really know if it is an actual hiking trail you are following, or just someone else's recorded route that may take you into subdivisions, maybe following their errand run, and possibly even back to their homes. You can create a profile, connect with friends and other users, find challenges and create goals. This app is more for fitness buffs in my eyes, and not really for exploration purposes. There is no cost for this app.
My overall hiker rating for this app: 2/10
After reviewing this app, I was really impressed as to the details it offers when it comes to providing clear, easy to read and follow overviews, descriptions and highlights. It offers a "family notes" description that states the easiness of bringing along small children (which is great for our family). You can create your own profile, check in to trails, add to a to-do list, and rate and share it. There is a "best of" section that takes into account your location for easy to find, highly rated trails wherever you are. However, I wasn't extremely excited about the search feature, as there is no options to filter your search for difficulty or things to see and do. The app is very user friendly, smooth, and pretty to look at with many photos added by users. This app is completely free.
My overall hiker rating for this app: 9/10
This website has some issues. After using this site for a short period of time, and trying to scan along the map, every time you zoom in or out or pan the screen, a loading image pops up and it has to constantly reload. There has been many times that the map gets stuck loading and the webpage has to be reloaded, starting you over in your search again, which became very annoying. There is an option to sign up and create a profile, but at a cost of $4.16 per month billed annually. I, personally, don't want to waste the money for a website that has loading issues. The site does state that they are currently working on creating an app, but I'm still not sure that I will be able to trust it when it does come out. The site looks great at first, on it's landing page, with a large bright photo that changes every time you visit it, with a clear search bar and options for browsing by activity. However, once you get further into the search, it becomes not-so-user friendly, and mainly based on the map, which has the loading issues mentioned above. One more thing, I noticed that smaller, not so well-known trails are not found on this site. So, if someone is looking for a quieter trail with less traffic, they may not find that here.
My overall hiker rating for this app: 5/10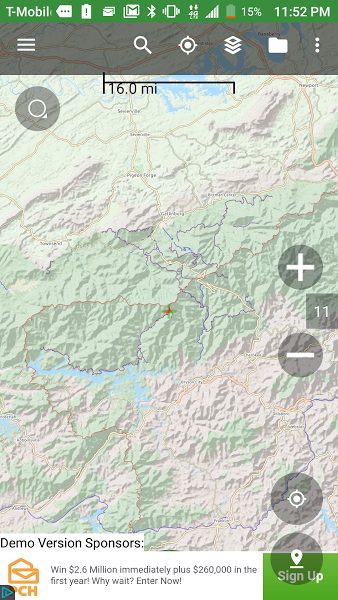 From the viewpoint of someone who is used to topographical maps and charting, or someone who knows how to search for, download, and utilize databases and waypoints, this app is great. You have access to offline Topo maps and aerial photography showing detailed terrain and countours. However, for the average person who is not necessarily technically inclined in these aspects, this app is not very user friendly at all. It's actually pretty basic with the option to purchase addons, which could get pricey if you travel a lot in order to get the addons for the specific areas you are heading to. The map feature, which is the basis of this app, is very detailed. It offers no details on the trails, no overviews or descriptions, no user reviews, and no search filter options. There is a free version, but you can upgrade to the Pro version for $11.99
My overall hiker rating for this app: 6/10
In conclusion, upon my search for the best hiking trail finder app, I came across a couple of winners and quite a few absolute toilet bowl flushers. Many of the other apps and sites I found weren't even worth a review. When it comes to ease of use, filterable searches, clean usable maps, and the inclusion of actual hiking trails, I would have to say that it is a toss-up between Alltrails and REI's Hiking Project.
I definitely recommend giving these apps a try. Your feedback and comments are welcome as well. I would love hearing your stories on what you may come across while using these apps as well. Now, go and download, find some trails that you haven't tried, and get out there and do it. I'm trying to offer my assistance to help you, and GYLBO (Get Your Lazy Butt Outside). Happy hiking my friends.